Rudolph the Red-Nosed Reindeer® Lights The Way To The App Store This Holiday Season
Oceanhouse Media, Inc. announced the release of Rudolph the Red-Nosed Reindeer available for the first time as a digital book for the iPad, iPhone and iPod Touch.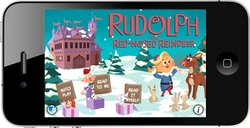 Encinitas, CA (Vocus) November 19, 2010
The holiday classic is now available on the App Store for an introductory price of only $2.99. This universal app can be used on the iPad and iPhone for no additional charge and includes special high-resolution graphics for Retina displays.
Rudolph delivers the message that there are no misfits in life, for everyone has a special quality to share. As the story opens, Rudolph is outcast for his shiny red nose. All the other reindeer make fun of him and won't let him play in their reindeer games. But when Christmas is almost cancelled because of a huge snowstorm, Rudolph comes to Santa's rescue. His glowing nose lights the way, enabling Santa to deliver toys to all the little girls and boys!
Rudolph the Red-Nosed Reindeer digital book includes background music and audio, enlarged artwork for each scene, and even audio clips from the timeless TV special!
To promote reading in young children, individual words are highlighted as the story is read. Word associations, professional narration and animated effects—like snow and Rudolph's glowing nose—keep children engaged in the reading experience. By combining the original text and beautiful artwork with features that entertain and promote reading, this digital book appeals to readers of all ages.
"This timeless story has become an integral part of Christmas tradition," said Jonathan Flom of Character Arts, LLC. "We are excited to make the Rudolph story available to today's generation of kids and are thrilled by the quality experience that Oceanhouse Media's apps provide."
"With the holiday season quickly approaching we are excited to release this Christmas favorite as a digital book for the iPad, iPhone and iPod Touch," said Michel Kripalani, President of Oceanhouse Media. "This story is a family favorite and we're proud that this app provides educational value to children in a fun, interactive way."
Oceanhouse Media, creators of the award-winning Dr. Seuss, Berenstain Bears and Hay House apps, have recently seen seven of their digital books reach the #1 rank for paid books on the App Store.
For more information on these products and direct links to the App store, please visit the Oceanhouse Media website.
About Oceanhouse Media
Oceanhouse Media, Inc. is an iPhone, iPod Touch and iPad app development company founded in early 2009 by Michel Kripalani, former CEO of Presto Studios and Director of Business Development at Autodesk. The team is comprised of developers with decades of experience, primarily from the video game business, that now share a common purpose to uplift, educate and inspire through technology. Currently, Oceanhouse Media has over 120 apps on the App Store. The company's corporate mantra is "Creativity with Purpose."
About Character Arts
Character Arts manages entertainment production and licensing across all media, with a focus on legacy properties and personalities. The company's services include marketing, licensing and brand management, particularly in the area of family and children's iconic entertainment.
###